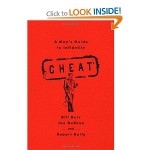 Heeding Oscar Wilde, "If you want to tell people the truth, make them laugh, otherwise they'll kill you," Bill Burr has some of the best comedy involving gender relations.
Here's a funny skit involving the difference between male work and female work:
He also has a book out entitled Cheat: A Man's Guide to Infidelity, which you can find here.
Save up to $10 on your first order at iHerb (free shipping for most orders, too!) with coupon code: EKO606.
Shop at iHerb.