I knew muscle was more dense (or as the kids say, "weighs more") but didn't realize it was this much more dense: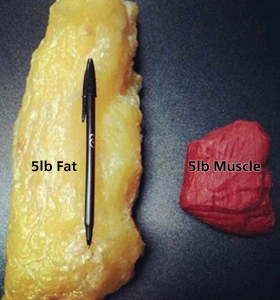 If you're doing everything right in the gym (and not using steroids), you'll be fortunate to put on 5-10 pounds of muscle in an entire year.
It takes a while to build up an impressive physique because 5 pounds of muscle doesn't take up much space.
Save up to $10 on your first order at iHerb (free shipping for most orders, too!) with coupon code: EKO606.
Shop at iHerb.