I've always been a bargain hunter and buyer in bulk of supplements. GNC once had a buy-one-get-one-50% sale of Muscle Milk, which had a cost-per-can of around $18. I bought a year's supply of the stuff.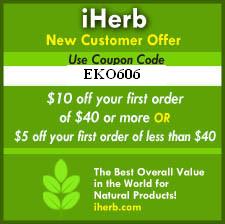 Although there are dozens of online supplement companies, I ended up buying most of my stuff from Amazon.
A few months back I was looking for an obscure multi-vitamin. It was around $70 on Amazon, so I shopped around.
Then I found a site with a really shoddy look to it. I Googled, "scam" next to the company's name, as the prices of many supplements seemed too low to be legit and the site wasn't very attractive.
It turns out that iHerb is a California-based company that is totally legit. I started shopping there around 9 months ago.
About 3 months ago I felt comfortable enough with their products and services to start sharing their coupon code: EKO606.
iHerb runs really good specials all of the time. For first time customers, you get $10 off your order over $40, or $5 off an order under $40. Everyone gets free shipping for orders over $40.
Last month every customer got 5% off orders over $60 and free shipping on orders over $20.
I still price compare Amazon and iHerb. Sometimes Amazon has a better price; sometimes iHerb does. But I only use those two sites for my online supplement shoopping.
Anyhow, I buy now my Vitamin-D, ZMA, B-12 lozenges, vegan protein (I use vanilla to for my modified juice fasts, to make some of the nastier green juices more palatable and to preserve muscle, and chocolate when blending smoothies), coconut oil (which is for cooking and also great in smoothies; economy size for serious users), Probiotics, and probiotic yeast (fights candida and yeast infections).
They have non-supplement stuff that I use too, such as their mouth wash, tooth paste, chewing gum, shampoo, and conditioner.