Choking works because it's a show of dominance. Women only want to have consensual sex with men they know could rape them.
Consider the rape fantasy. No girl wants to be wolf packed on the D.C. Metro. Yet nearly ever roman novels consider healthy does of a woman being taken against her will.
I know you can rape me, but won't.
"You look like the kind of girl who enjoys being choked," I told a girl who I was gaming at a bar. She smiled, "How could you tell?"
I immediately pinned her back against the wall and began choking her.
One hour later, I was hooking up with her in the back seat of her car. Two hours later, I was taking her vagina to new found widths.
To get good at choking, you need to have good technique. Most guys ram their hands on a girls windpipe. That's not erotic.
Instead, you must go for the carotid artery, which are the two lines veins on either side of the neck. When you squeeze the carotid artery, the girl shouldn't cough, as you hands are not on her wind pipe.
The carotid arteries (on either side of the neck) carry oxygen-rich blood from the heart to the brain. When these are compressed, as in strangulation or hanging, the sudden loss of oxygen to the brain and the accumulation of carbon dioxide can increase feelings of giddiness, lightheadness, and pleasure, all of which will heighten masturbatory sensations.
Once you've cut off oxygen to her brain, she has about 3-5 seconds before passing out.
At the bar, I covered the girl's neck with my had, but I squeezed with my thumb and fingers. The "webbed" part of my hand didn't move forward to her neck. To time the squeeze, say in your head, "Squeeze, release." Once you've finished saying, "Squeeze, release" to yourself, let go.
As you choke more women, you'll learn how to time it better. Plus, tastes differ.
I like choking a woman right up until her eyes almost go lifeless. Women also love this. Once the life returns to her, it's as if she came back from the other side.
I've also choked women unconscious. It's no cause for alarm. She'll be fine once you release the pressure from her carotid arteries, thus allowing blood flow to return to her brain.
You should also choke your girl when standing around. Consider it "choke PDA." When she acts up, apply pressure to her carotid arteries by squeezing your biceps. – like a one-half rear naked choke.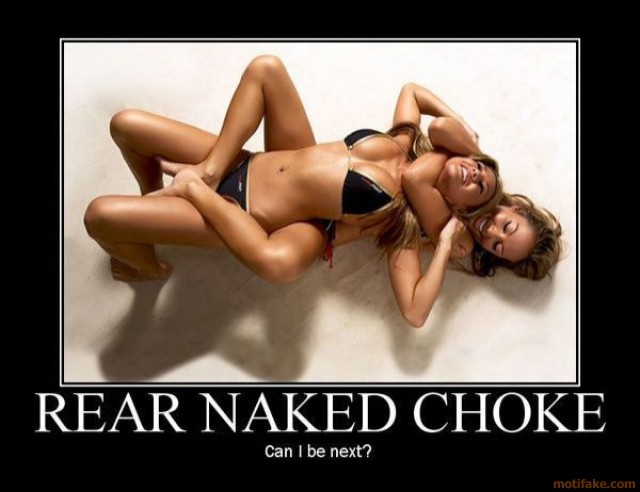 Once you start choking women, you'll be addicted. Women love it, too.
Choking is also a useful indicator of your alphaness.
If women do not regularly let you choke them, your game is weak. You are giving off a weak, vagina-drying vibe.
And if you do not want to choke women, let's just say you should go find yourself another website to read. Dr. Phil is always looking for additional readers.